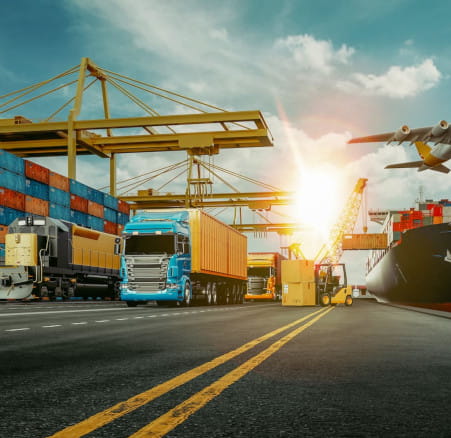 Quality
For us, quality is the measure of excellence. We are proud that some of our Partners have placed their trust in us for more than 10 years. All our work, environmental protection and safety processes comply with local regulations and we manage our Partners' stocks based on the following standards:
TAPA-A (Transported Asset Protection Association Europe, license A) – guarantees the safety of your stocks in our warehouses
AEO-F (Authorized Economic Operator) – proof of our compliance with customs and financial regulations, our knowledge and the trust placed in us by the Authorities
ISO9001:2015 (International Organization for Standardization – a quality management system) – guarantee of the level of service we provide to our Partners
HACCP (food safety system) – provides the framework for our processes for dry food storage and handling
ISO13485:2016 (Medical Devices) – proof that we are able to handle medical devices in accordance with the expectations of our Clients and the regulatory environment
Sustainability and commitment
GSP Kft. is committed to operating its business in a sustainable manner and creating value for its partners. At GSP Kft., we believe that sustainability is everyone's responsibility and that it is the basis of good management, thus contributing to the company's long-term success and ensuring a more efficient and effective logistics background for customers.
Our sustainability focus areas
Ethical business practices
At GSP, we are committed to conducting our business activities in full compliance with all applicable legal and regulatory requirements, taking into account the highest ethical standards. Our code of business conduct defines the principles, values ​​and ethical guidelines on the basis of which GSP Kft. conducts business.
Our People
The success of GSP Kft. is made possible by the behavior, commitment, motivation and professional knowledge of our employees. It is an essential part of our strategy to employ the right employees and to create secure conditions for them in the long term. That is why we ensure their continuous training, the existence of suitable working conditions, the maintenance of motivation and the possibility of promotion.
Secure operations
We strive to conduct our business in a way that ensures the health and safety of our employees and customers. Furthermore, we try to protect the data of our customers and employees so that it does not fall into the possession of third parties. Our regulated processes ensure the integrity and protection of our customers' goods, and our daily operations are characterized by firm and strictly observed rules.
Value chain (including Quality)
Through a deep industry expertise and a culture of operational excellence we ensure to deliver complex, high-quality and customized end-to-end supply chain solutions. As GSP is working together with a large number of suppliers, it is important to create a close and collaborative relationship with them and to ensure that they deliver service standards that satisfy the needs of both our business and the customers.
Environmental and social responsibility
Corporate and social responsibility is of utmost importance to us. We are aware that constantly changing regulations and market conditions affect the supply chain and present new challenges. Accordingly, GSP Kft. offers its customers integrable solutions. As a result of our work, the efficiently organized movement of goods can reduce carbon dioxide emissions caused by transport, thus reducing its environmental impact. We design operational processes according to the priorities and business needs of your company.